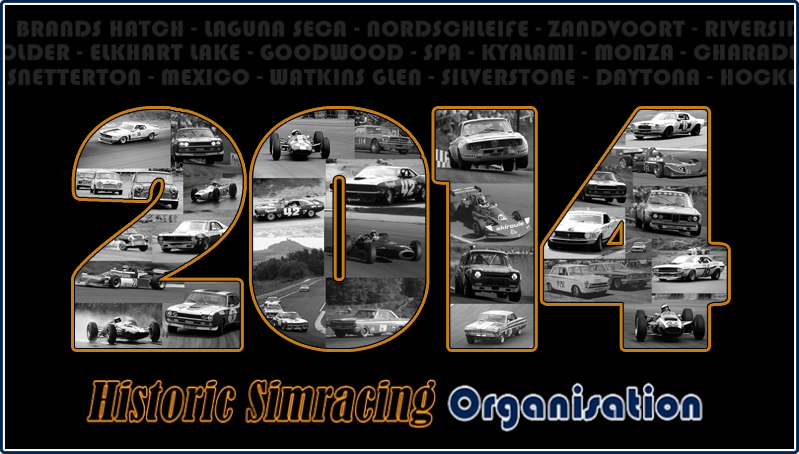 Hi fellow simracers
!
The forthcoming 2014 season will be the sixth year of existence for HSO - still the one and only simracing league in the world solely devoted to the recreation of automobile races and championships of yesteryear. As in 2013, rFactor and its mods will be our exclusive platform for the season. Our racing days remain Wednesday and Sunday nights at Central European Time, but we will also have one of our series held on Sunday nights at American time for drivers living in this part of the world.
As far as rFactor mods are concerned, the famous Historic GT & Touring Cars 1.95 is of course back and will be used for two of our main scheduled series. Another well known quantity is Touring Car Legends and its excellent Group A touring cars, while our HSO version of David Sabre's 1976 Formula Atlantic mod will receive a new carset of cars and will bring us to the African continent. A very nice touch of novelty is brought by the COMS 1965 Formula 1 mod, which will allow us to walk in the footsteps of the great drivers of the 1960s for a full year of 1,500cc Grand Prix racing.
Next to these four mods, the 1987 Group C and WSC70 ones are first in line for Open events enduros, and there is always of course room for an eventual new historic mod that would come out during the year. Among those new mods will hopefully be the ones actually being developped by our modding team, namely Jason White's 1973 USAC Indycar and Ben Paulet's 1991 Jaguar XJR-15.
We are also still keeping an eye on rFactor2 and its fabulous possibilities in terms of immersion and realism, and hope that its increasing content in historic cars and tracks will soon enable us to stage an official Open race with it. In the meantime the other Opens already scheduled with rF1 include an edition of the Indianapolis 500 Miles race, a third edition of the Targa Florio Rallye di Sicilia, the Bathurst 1000 Kms touring car race, and a classic Group C enduro.
As mentionned above, one of our 2014 series will be held at American time. The idea is to provide HSO quality races to simracers in that part of the world, whether they live in North or Latin America, at a time more convenient for them than the ones they have to commit to for our European-based events. The HSO Americas part of the league will run its own championship (with HGTTC 1.95), and will also be racing jointly with the mother branch in our IMSA enduros. HSO-A admin Mike Becnel also has plans for various Open events along the year, with the 1965 F1 at the top of the list of considered mods. Check out the HSO Americas dedicated forum for more details on the upcoming HSO-A events.
1965 Formula 1
1965 was the last year the controversial 1,500cc Formula 1 cars were used for the FIA World Drivers' Championship. Best remembered as one of Jimmy Clark's stellar years, the 1965 Grand Prix season also saw the first F1 race wins for both Honda and Goodyear. While not as glamourous as the 2.5-litre cars that preceded them or the 3-litre ones who took over in 1966, the 1.5-litre Formula 1 cars produced some exciting racing and it took racing legends of the calibre of Jim Clark, Graham Hill, John Surtees, Jack Brabham, Dan Gurney or Jackie Stewart to be driven at the absolute limit.
The COMS modding team produced a most thorough mod and has done a very good job in transcribing to rFactor the characteristics of these nimble Formula 1 cars. One of the most striking feature of the mod is the realistic engine wear which, along with the general physics of the cars, adds a long awaited GPL feel to rFactor. As five of the first six races of the year are non-championship events, drivers will have plenty of time to get used to their fragile V8s and V12s before the season of World Championship events and its long races resumes in mid-April.
While only the ten Grands Prix will count towards the World Championship, all of the 16 races part of the schedule will count for the GPDA Von Trips Trophy for privateers. This secondary competition will be a worthy consolation for those driving the (usually slower) privately entered cars.
Simulator
: COMS 1965 Formula 1 for rFactor.
Cars
: 1965 1,500cc Formula 1 single-seaters.
Schedule
: 16 races on Sunday nights from January to December (10 World Championship and 6 non-championship events).
Race distance
: from 1-hour to over 2h30 for the longest races.
1965 BRSCC British Saloon Car Championship
After our 2013 journey into the heyday of Group A racing and the 1988 BTCC series, we will this year go back to the roots of Touring Car racing with this 1965 British Saloon Car Championship. Created in 1958 by the BRSCC (British Racing and Sports Car Club), the BSCC was the pioneer championship for production-derived saloon cars, and its success prompted the FIA to create a European Championship for such cars in 1963. The liberal Group 2 regulations retained by the world's governing body were also enforced in the BSCC up until the 1965 edition that concerns us. Mustang, Falcon, Cortina, Mini – these names alone tel the tale of the BSCC, and with luminaries such as Jim Clark, Jack Brabham, Jack Sears, Frank Gardner, John Whitmore, Mike Spence or John Fitzpatrick at the wheel the tale becomes one of which legends are made.
As it was the case last year with the BTCC, the series is opened to three very distinct classes of cars but will crown only one champion in the end. Unlike the BTCC though, all classes will not always race together at the same time, but will sometimes be split into different races if the track configuration requires it.
Simulator
: HGTTC 1.95 for rFactor.
Cars
: three classes of 1960s Saloon Cars.
Schedule
: 8 races on Wednesday nights from January to May.
Race distance
: between 20 to 40 minutes depending on the race.
1974 IMSA GT Challenge
The American IMSA series is best remembered by motor racing aficionados for its spectacular GTP era of sports-prototypes racing of the 1980s. But before this golden age and international recognition were the founding years of the International Motor Sport Association, built on GT and Touring cars, American teams and drivers, and long distance road racing. Created in 1969 by John Bishop, the IMSA organisation went stronger and stronger as the next decade progressed, and by 1974 it was a well established national championship. One could even venture to say that with the demise of the SCCA Trans-Am and Can-Am series that year it was in fact the most competitive professional sportscar road racing series in America.
Headed by the Porsche RSR / Chevrolet Corvette duel, the 1974 season saw the likes Al Holbert, Peter Gregg, Hurley Haywood, Milt Minter, Michael Keyser and Elliot Forbes-Robinson battle it along the 10-race schedule. But the IMSA fields were not only great in quality, they were also fantastically big in quantity with up to 65 cars attending a given race ! Each race was different from the next one too, with the proposed challenges ranging from a 100-mile double header to a full blown 1000 Km enduro.
This extremely varied programme should make for a terrific series, and with its one race per month schedule, its two drivers' championships and our custom made add-on to the mod it should be just that !
Simulator
: HGTTC 1.95 for rFactor.
Cars
: two classes of 1970s GT and Touring cars.
Schedule
: 10 races on Sunday nights from January to December.
Race distance
: from 100-mile heats to 6-hour enduros depending on the race.
1976 South African Drivers' Championship
Isolated geographically, and as the years went by also politicaly, from the motor racing Meccas of Europe and North America, South Africa very soon developped a racing scene of its own. The premier national championship was the South African Drivers' Championship, which was created in 1953. During the 1950s the championship slowly evolved from its Handicap racing heritage of the pre-war years to pure scratch racing, and from Formule Libre cars to single-seaters only. In 1965 it even preceded by one year the official 1966 Formula 1 into 3-litre regulations. This gave birth to the best years of the championship, the years of the great John Love and Dave Charlton reigns, with decent grids of F1, F2 and F5000 cars mixing it in a series of mini GPs held in SA and the neighbouring countries. By the mid-70s however the fields got smaller and starting in 1976 the series was exclusively reserved to 1,600cc Formula Atlantic cars.
It is this first season of SA Formula Atlantic that we will stage in 2014, using the HSO 1976 Formula Atlantic mod released in August 2013. A carset of 13 new cars from the 1976 SA championship is made available, and together with the exotic scenery of the rarely used local tracks it should make for a very pleasant series indeed. The 10-race championship will visit six different tracks, of which only one has already seen an HSO rFactor race before. Race format is similar to that of our Canadian series of 2013 (around 45 minutes) and should provide as much excitement and hopefully yet another very close battle for the title.
Simulator
: 1976 Formula Atlantic for rFactor.
Cars
: 1976 1,600cc Formula Atlantic single seaters.
Schedule
: 10 races on Wednesday nights from January to June.
Race distance
: around 45 minutes.
1989 Deutsche Tourenwagen Meisterschaft
(Note : the dedicated DTM forum will be up in February).
Definition taken from the Encyclopedia Galactica, revised edition of the year 3722
:
D.T.M.
: acronym for Deutsche Tourenwagen Meisterschaft, the barbaric sounding name given to  a series of sporting jousts from the late XXth century, in the country then known as West Germany. The contests seemed to have opposed around 40 sportsmen at a time, each of them aboard a primitive vehicle of some sorts called "Groupa" (probably propelled by fossils fuels !) and are thought to have had a fabulous prestige attached to them. From the gathered information it is supposed that a fair share of the country's population attended each event, while those who could not be present watched the event via satellite communications. The jousts seemed to have been contested on portions of roads of varying length, possibly up to 23 km, and were considered to be the noblest activity any sane men or women of this time could aspire to take part in. The importance of the DTM events was such that, in the year 1989, the overwhelming joy brought to the people by the succession of such events led to the reunification of the then divided Western and Eastern parts of Germany. But this theory remains disputed among historian circles up to this day.
Simulator
: Touring Car Legends  for rFactor.
Cars
: 1980s Group A Touring Cars.
Schedule
: 11 races on Wednesday nights from March to December.
Race distance
: two 40-minute races per night.
1974 SCCA National Championship
Our newly implemented American time server will be hosting a season of 1974 SCCA racing in 2014. The SCCA (Sports Car Club of America) is the pioneer road racing organisation in North America, responsible for legendary series such as the USRRC, Can-Am and Trans-Am championships. These well known profesionnal series were just the tip of the SCCA iceberg though, for besides those the club also organised a National Championship based on the hundreds of amateur races held every year for its thousands of members all over the country. These amateur drivers competed all year long in their local Divisional championships (there were several categories of single-seaters, sportscars, GTs and sedans), with all the Divisional champions invited to the national season finals known as the American Road Race of Champions, where a one-race shootout per category crowned the National Champions.
Our 2014 HSO-A season will feature a somewhat more modest (in terms of number of races !) version of this SCCA National Championship. Our drivers from the Americas will have two categories of Sedans to race with, and will have a 15-race schedule to determine the list of drivers invited to the ARRC finals in December. Next to these 15 regular season races, our SCCA drivers will also be able to participate in the endurance races of our 1974 IMSA GT series, where they will also earn points for their SCCA championship. The regular SCCA race will be a timed 1-hour event, with both classes of Sedans racing concurrently.
Simulator
: HGTTC 1.95 for rFactor.
Cars
: two classes of 1970s Touring Cars.
Schedule
: 15 races on Sunday nights from January to December.
Race distance
: timed 1-hour races.
Registration at HSO is free and must be made on the forum using your real name. The HSO site will also provide you with all the details on our past, present and futures races.
Join us in 2014 !