1987 INTERSERIE - PREIS DES AICHFELDES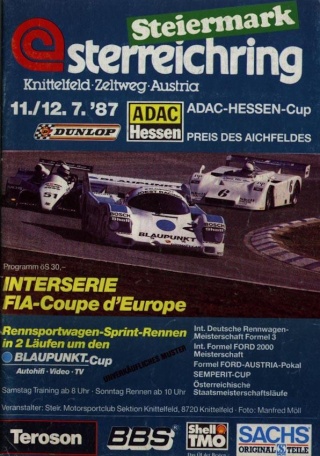 Race will be run on the HSO 1987 Group C mod, with its 1.03 patch : => Download mod <=
The track is the 1979 layout of the Osterreichring :
=> DOWNLOAD TRACK <=
EVENT SCHEDULE
(all times CET, Paris time)
Sunday June 9th / Dimanche 9 Juin
8:00pm : Qualifying session
9:00pm : Warmup
9:15pm : Race 1 start (12 laps)
9:45pm : Race 2 start (12 laps)
Grid will be the same for the 2 races.
Final standings will be determined by the aggregated times of the two races.
Server Password : hso87
IP : 91.121.135.76:34200
=> HOTLAPS <=
HSO rFactor servers informations
Please book your car in this topic.
Race Start
Race will feature a rolling start.
Once everybody is on the grid and green lights have been shown, drivers will start a formation lap at low speed. Do not overtake, stay packed, no more than 2 or 3 car lengths between each car.
After the last turn, cars will keep rolling at reduced speed in the starting grid formation, so remember your side of the grid.
When the leading car will be in sight of the start/finish line, an admin will give the real start of the race by typing "GREEN FLAG" in the chat.
Overtake before crossing the start/finish line
is not allowed.
Zigzaging to warm up your tires
is not allowed.
Before the green flag, drivers should maintain a staggered formation, and not stay along side each others.
Notes
- Fastest drivers will not be allowed to drive the Jaguar.
- Due to the always high number of people wanting to drive the Jaguars and Saubers, the drivers having previously driven them earlier this year will not be allowed to drive ithem as well, this time only.
- as for every HSO race, drivers are asked to use their real names only, whether in qualifying or in the race itself - nicknames are not allowed. Your driver profile must use upper letters for the first letters only (ex :
G
uillaume
S
iebert).
- chatting is strictly forbidden during the race. It is tolerated in qualifying for technical issues only.
============ VERSION REUNIONAISE ============
Merci de réserver votre voiture dans ce topic. Les pilotes les plus rapides ne seront pas autorisés à réserver la Jaguar.
Départ de la course
La course démarra par un départ lancé.
Une fois les voitures sur la grille, lorsque les feux vert s'allumeront, les pilotes s'élanceront pour une tour de formation à vitesse réduite. Restez groupés, pas plus de 2 ou 3 longueurs de voiture entre chaque voiture.
A la sortie du dernier virage, les pilotes se remettront en formation (mêmes positions que sur la grille de départ), et un admin donnera le départ en tapant les mots "GREEN FLAG" dans le chat.
Dépasser avant la ligne de départ
est interdit.
Zigzaguer pour faire chauffer ses pneus
est interdit
.
Avant le départ les pilotes devront se décaler les uns par rapport aux autres comme sur cette image, et non pas se tenir côte à côte.
Notes
- Les pilotes les plus rapides ne seront pas autorisés à réserver une Jaguar.
- A cause du nombre important de pilotes voulant piloter les Jaguar et Sauber, exceptionnellement les pilotes les ayant déjà pilotées plus tôt cette année ne seront pas autorisés à les réserver.
- Comme pour chaque course HSO, les pilotes doivent utiliser leurs vrai noms. Les pseudos ne sont pas autorisés. Votre nom de pilote ne doit comporter des majuscules qu'aux premières lettres (ex :
G
uillaume
S
iebert).
- Le chat est strictement interdit en course. Il est toléré en qualifications pour problèmes techniques seulement.