Hey guys.
I am slightly bored with the rally mods available for Rfactor as they are rather limited, don't get me wrong I love Historic Rally Cars mod but it does lack actual "Historic" feel to it like many Open Wheel or Touring Car sets.
I am a massive fan/competitor in rallying and if I could complete something like this I would be very pleased and proud.
What I am suggesting is the 1985 British Rally Championship which at that time had international competitors with a variety of cars which were closely matched. Perhaps when completed could become an Open for HSO?
Below is a list of cars to show availability and basic spec of them, Also the Proposed track I am working on with BTB which is very close to my home and renowned in the UK as the best Tarmac rally venue there is with fearsome jumps, corners, blind crests, dips and junctions!
My only problem is I need some guidance on how to actually make the set, where do I start? I can do physics editing and liveries and I am learning 3d modelling but what else do I need?


AVAILABLE CARS // VOITURES DISPONIBLES

Group B
Audi Quattro A2
2143cc Turbo 5cyl | 360 HP @ 7000 rpm | 1130 kg | 4WD

#1 Michele Mouton
#4 Malcolm Wilson
#6 David Llewellin
#18 Chris Lord
#30 Alan Poole
#2 Harald Demuth
Audi Quattro Sport
2143cc Turbo 5cyl | 520 HP @ 7500 rpm | 1200 kg | 4WD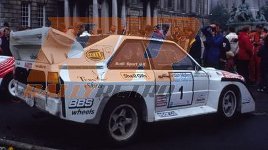 #1 Michele Mouton
#5 Malcolm Wilson
Ford Escort G3
2200cc N/A 4cyl | 290 HP @ 8000 rpm | 970 kg | RWD

#16 Mike Pattison

Ford Escort RS
1993cc N/A 4cyl | 272 HP @ 8000 rpm | 980 kg | RWD
#31 Richard York
#20 Kenny McKinstry
#29 Ian Holt
#19 Jack Lyons
#16 Andy Dawson
#41 Terry Cree

Nissan 240RS
2340cc N/A 4cyl | 240 HP @ 7200 rpm | 970 kg | RWD
#7 Terry Kaby
#35 Gary Hicks
#20 John Coyne
#17 James Prochowski
#19 George Marshall

Opel Manta 400
2420cc N/A 4cyl | 275 HP @ 7200 rpm | 980 kg | RWD
#3 Jimmy Mcrae
#4 Russell Brookes
#6 Bertie Fisher
#17 Phil Collins
#18 Cyril Bolton
#17 Austin McHale

Peugeot 205 T16
1775cc Turbo 4cyl | 340 HP @ 8000 rpm | 940 kg | 4WD

#7 Mikael Sundstrom

Porsche 911 SC RS
2994cc N/A 6cyl Boxer | 300 HP @ 8000 rpm | 1030 kg | RWD

#3 Billy Coleman
#9 Bernard Beguin
#11 Saeed al-Hajri

Renault 5 Turbo 2
1397cc Turbo 4cyl | 255 HP @ 7000 rpm | 900 kg | RWD

#19 John Price

Skoda 130LR
1288cc N/A 4cyl | 132 HP @ 7000 rpm | 850 kg | RWD
#12 John Haughland

Talbot Sunbeam Lotus
2174cc N/A 4cyl | 245 HP @ 7000 rpm | 1015 kg | RWD

#18 Ernest Kidney
#55 Mick Clarke
Group A
Ford Escort RS Turbo
1597cc Turbo 4cyl | 210 HP @ 5000 rpm | 905 kg | FWD

#15 Mark Lovell

Opel Ascona
1996cc N/A 4cyl | 185 HP @ 7100 rpm | 1000 kg | RWD

#10 Mats Jonsson
Opel Manta GTE
1996cc N/A 4cyl | 185 HP @ 7100 rpm | 1000 kg | RWD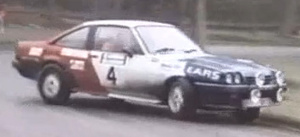 #4 Pentti Airikkala
Peugeot 205 GTI
1580cc N/A 4cyl | 145 HP @ 6250 rpm | 850 kg | FWD
#13 Mikael Sundstrom
#14 Louise Aitken-Walker

Rover 3500
3528cc N/A V8 | 300 HP @ 7500 rpm | 1350 kg | RWD
#10 Tony Pond
#20 Bob Fowden
#22 Mike Stuart


Toyota Corolla GT
1587cc N/A 4cyl | 180 HP @ 6600 rpm | 920 kg | RWD
#2 Per Eklund
#24 John Midgley

Toyota Supra
2759cc N/A 6cyl | 290 HP @ ???? rpm | ???? kg | RWD
#2 Per Eklund

Vauxhall Astra GTE
1996cc N/A 4cyl | 220 HP @ 7200 rpm | 1000 kg | FWD

#11 Pentti Airikkala
#20 Andrew Wood
Group N
Audi 80 Quattro
2144cc N/A 5cyl | 195 HP @ 6500 rpm | 1140 kg | 4WD
#36 Alede Cannon
Vauxhall Astra GTE
1996cc N/A 4cyl | 150 HP @ 7200 rpm | 1000 kg | FWD
#44 Brian Wiggins
Image Copyrights to:
Woodtyke on Flickr
RallyRetro
Howiefowler on Flickr
RDJ Pics
Sr.Murphy on Flickr
Joemccabe
Track